Main Specifications:
Charger Type: 

GBT Charger

length: 

56

Origin: 

Mainland China

Cable Length: 

5 meters

Material: 

TPU

Width: 

26

Current: 

10/16/20/24/32A

Manufacturer Part Number: 

GBT EV Charger

Height: 

32

weight: 

3.5KG

Operating Temperature: 

-25C~+ 55C

Power: 

50/60HZ

IP Rating: 

IP67

Voltage: 

110~250V AC

Special Features: 

GBT Standard EVSE Home Charger

Material Type: 

TPE

Withstand Voltage: 

2000V

EV Charging Cable: 

3×6.0mm2+2×0.5mm2

Vibration Resistance: 

Meet JDQ 53.3 Requirements

Approved: 

CE/TUV Certificate

Warranty: 

1 year
1.12 month warranty
2.Working Current: 3×2.5/6.0mm2+2×0.5mm2 EV Charging Cable
3.Working Voltage: 110-250V AC
4.Auto charge recovery
5.LED Lights for charging status
6.Waterproof: IP67
7.Operating Temperatures: -25° To +55°
8.Storage Temperature: -40° To +80°
9.Certificates: CE TUV
10.Charge from your home power point
11.Electrical approval for EU, CE TUV
12.Guaranteed to be fully compatible with ALL GBT electric charging
Notice:16A Adaption: EU-Schuko-Stecker.32A Adaption:Blue CEE Plug.If you need other types of plugs, please contact support.
Safety protection:
1.Over and under frequency protection
2.Leakage Current Protection (restart recover)
3.Overload protection (self-checking recover)
4.Over voltage and under-voltage protection
5. Over Current Protection
6. Over Temperature Protection
7. Ground Protection and Short circuit protection
8. Lighting Protection
9. Delayed charging: This product is unique! You can adjust the time you want to start charging through the buttons on the control box. For example, if you get home at 2pm, if you don't want to charge your car during the day because of the high temperature and high electricity bills. You can adjust the charging time to start charging after 1-12 hours. If you adjust to 6 hours then it will start charging at 8pm!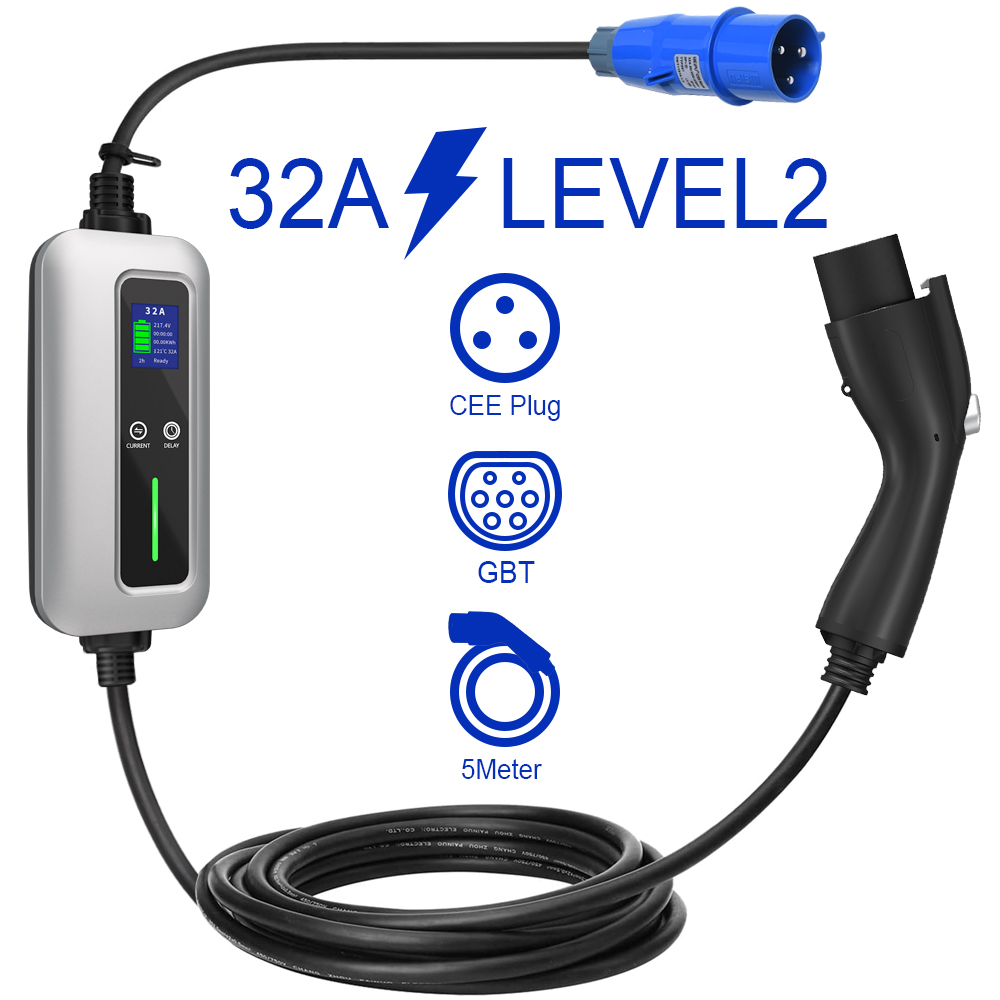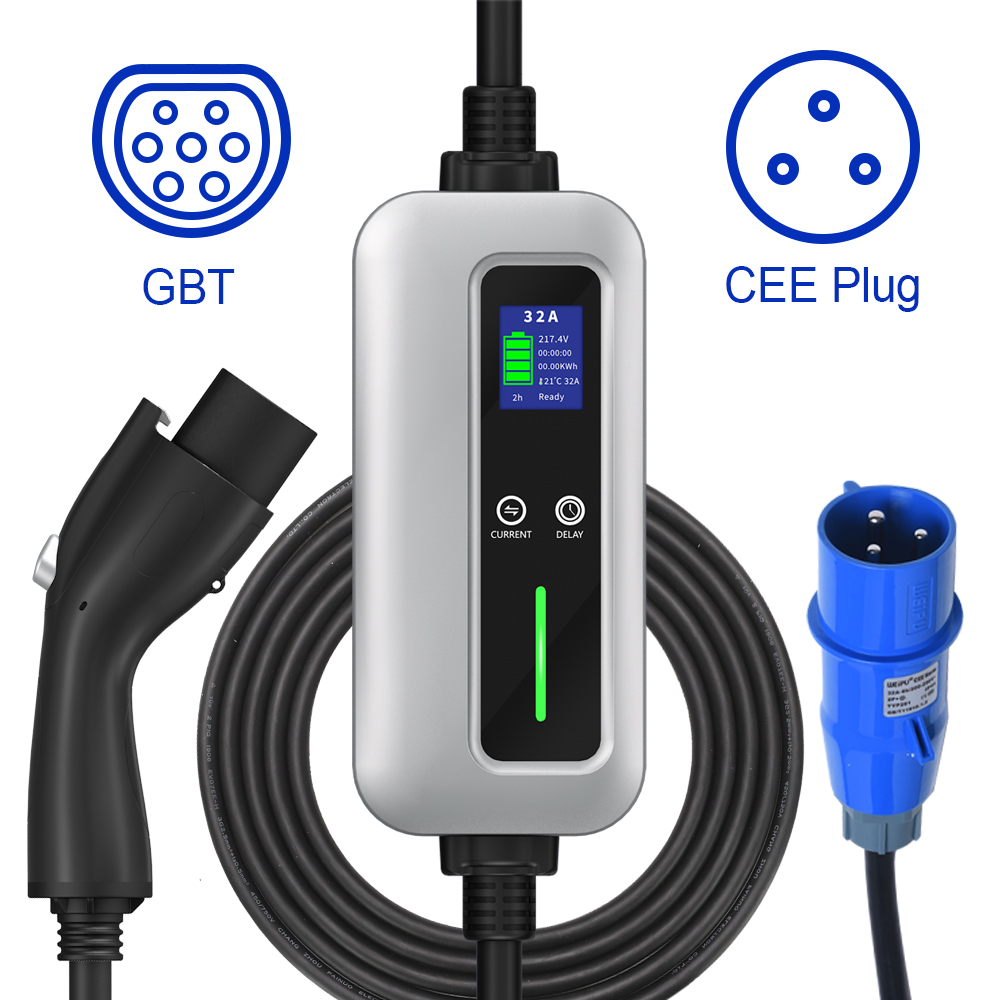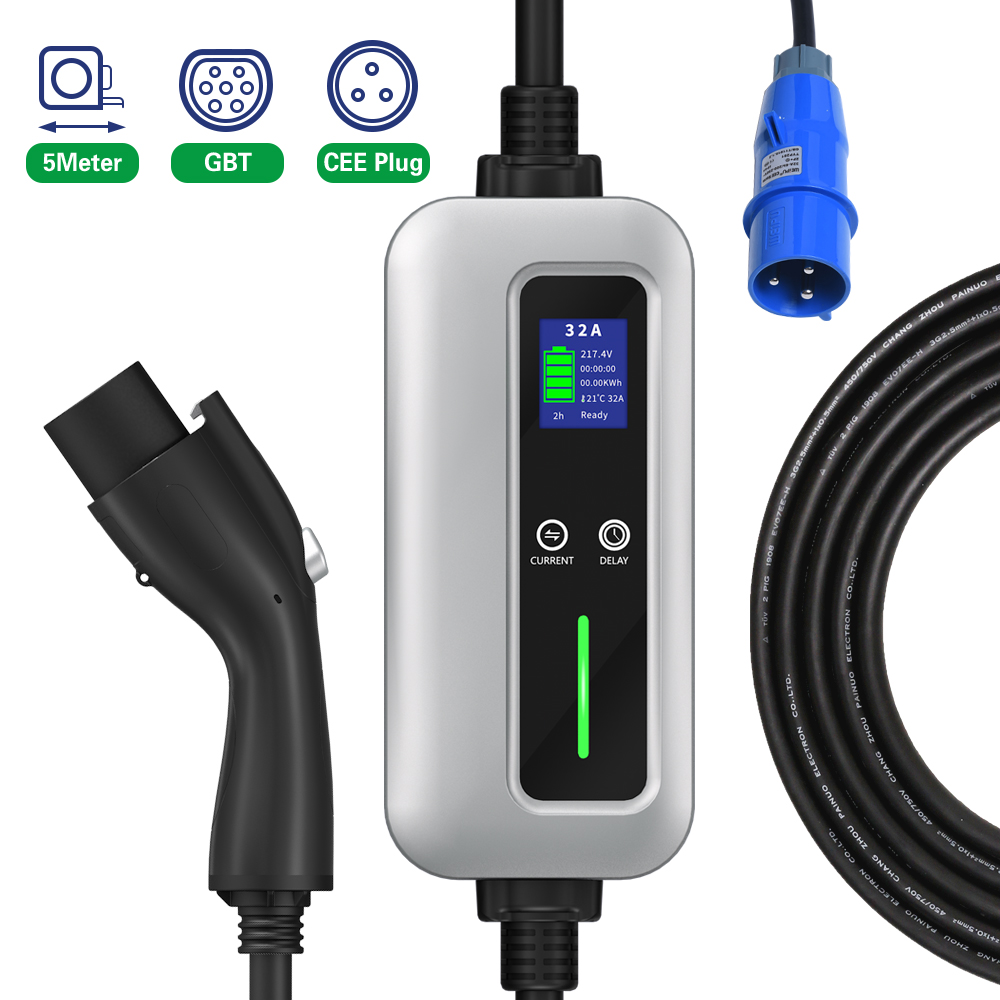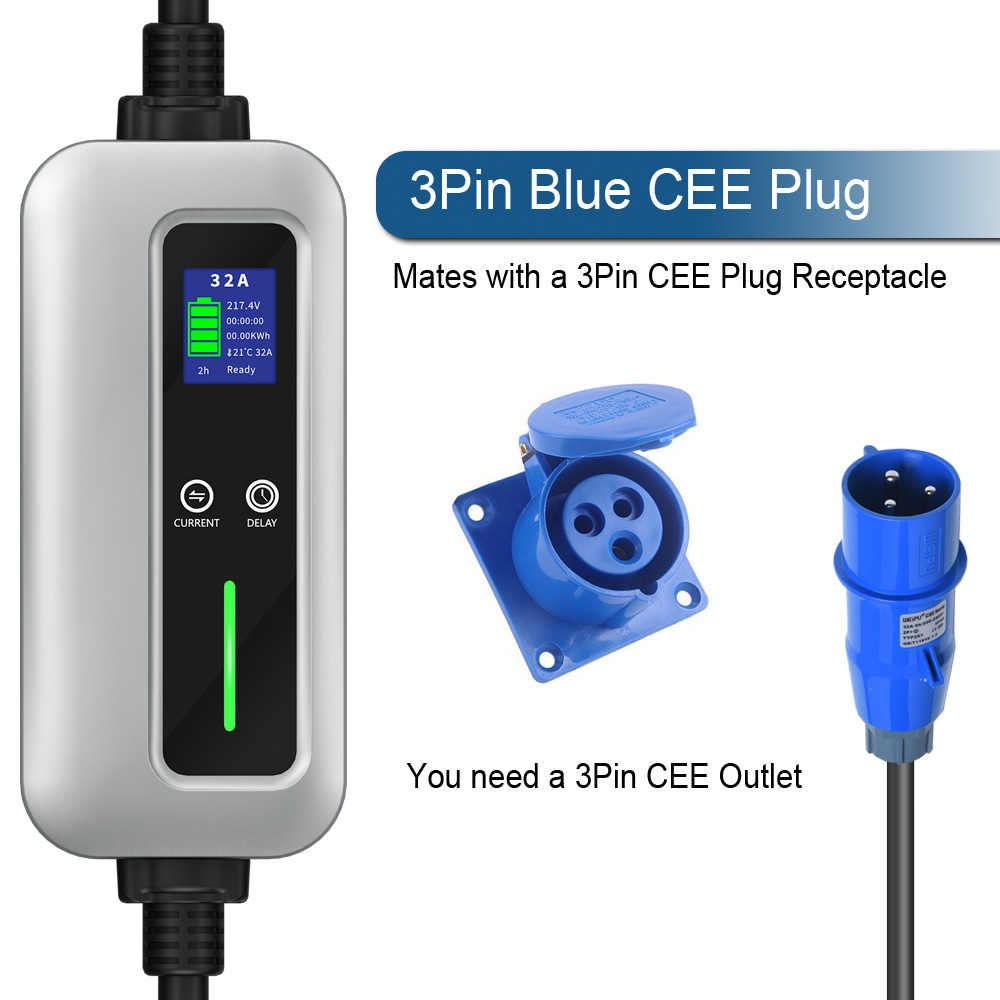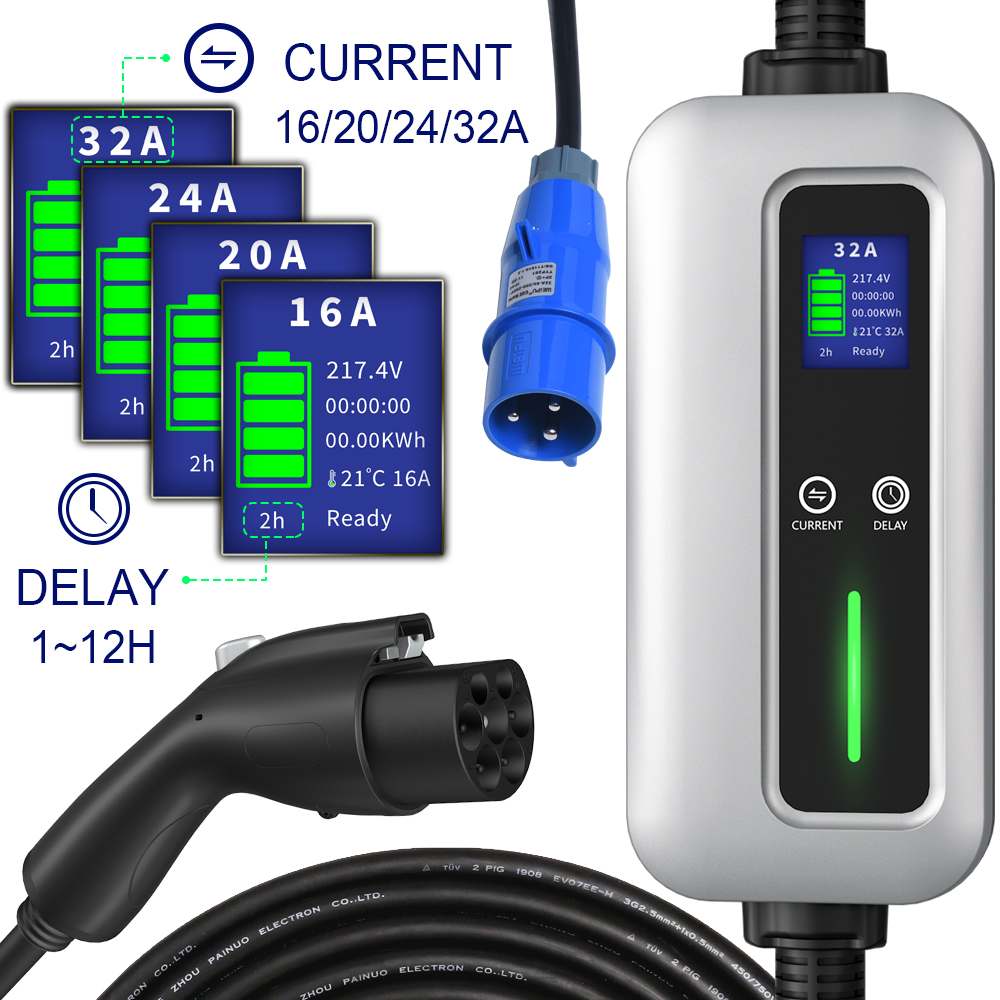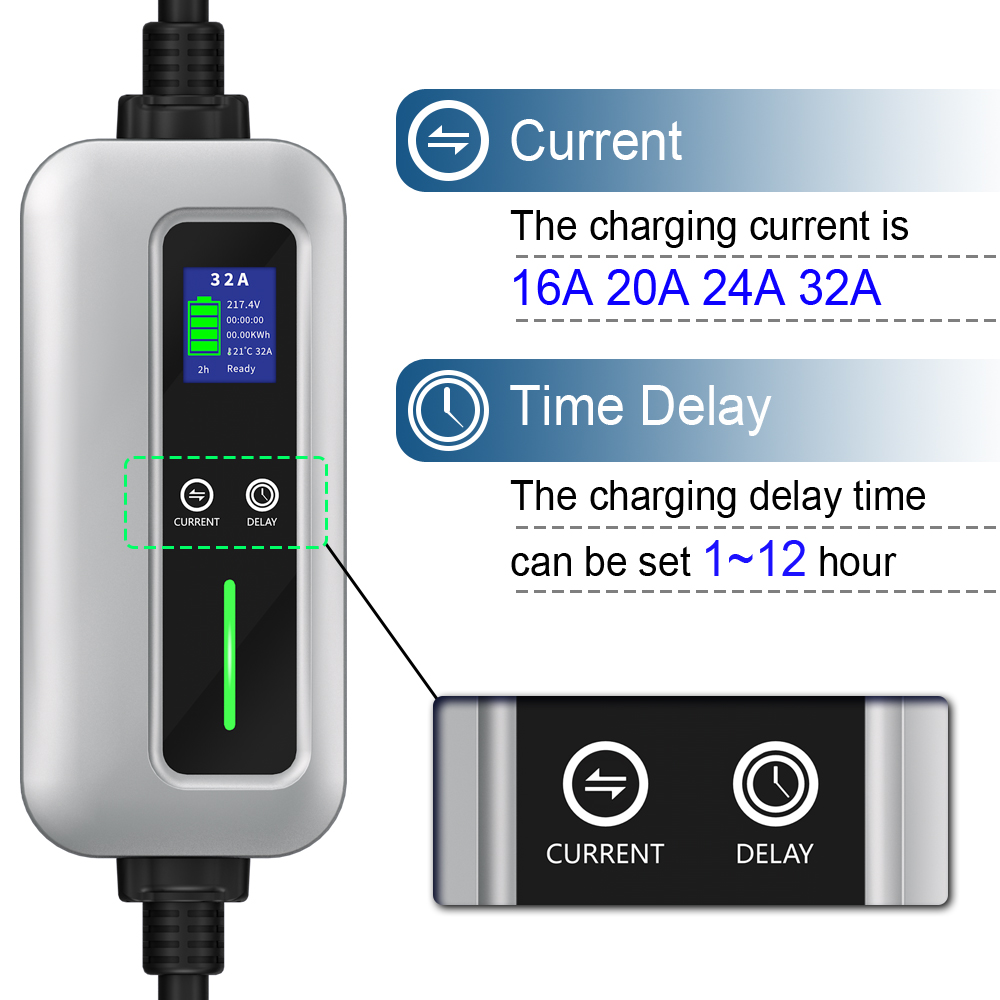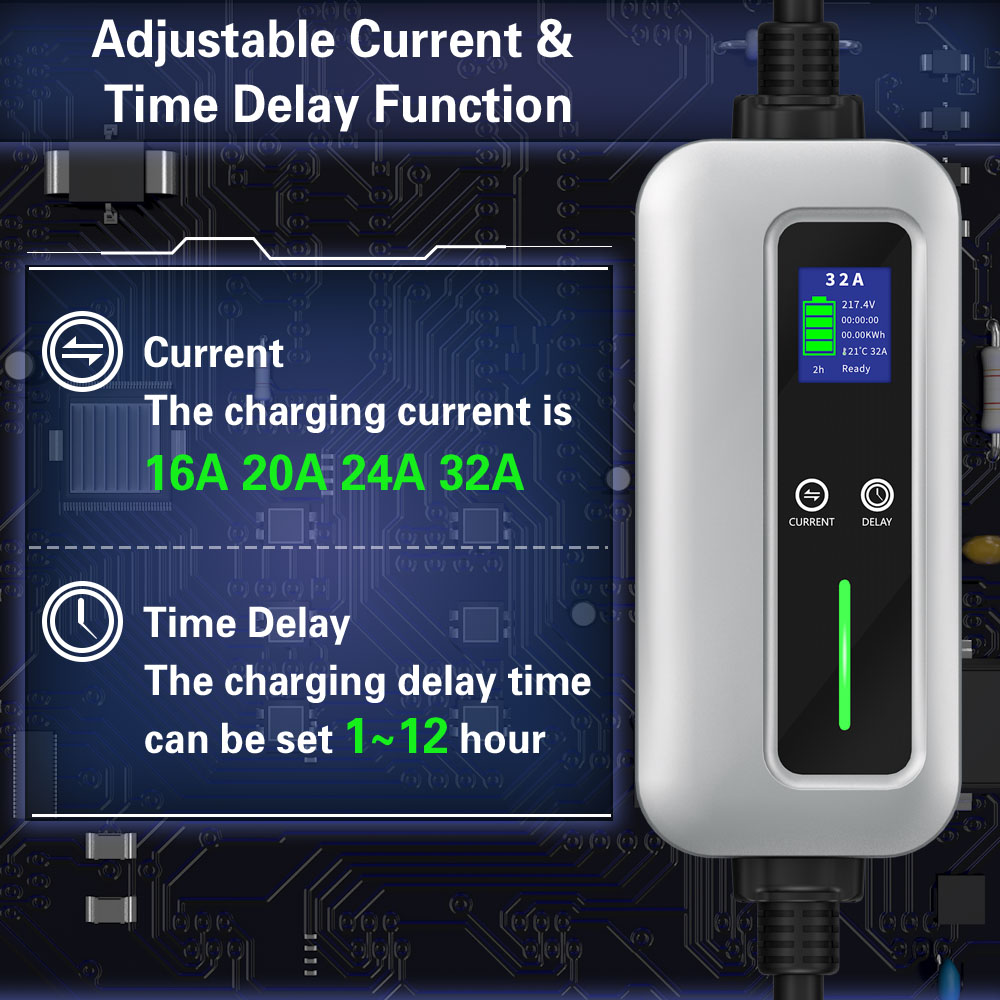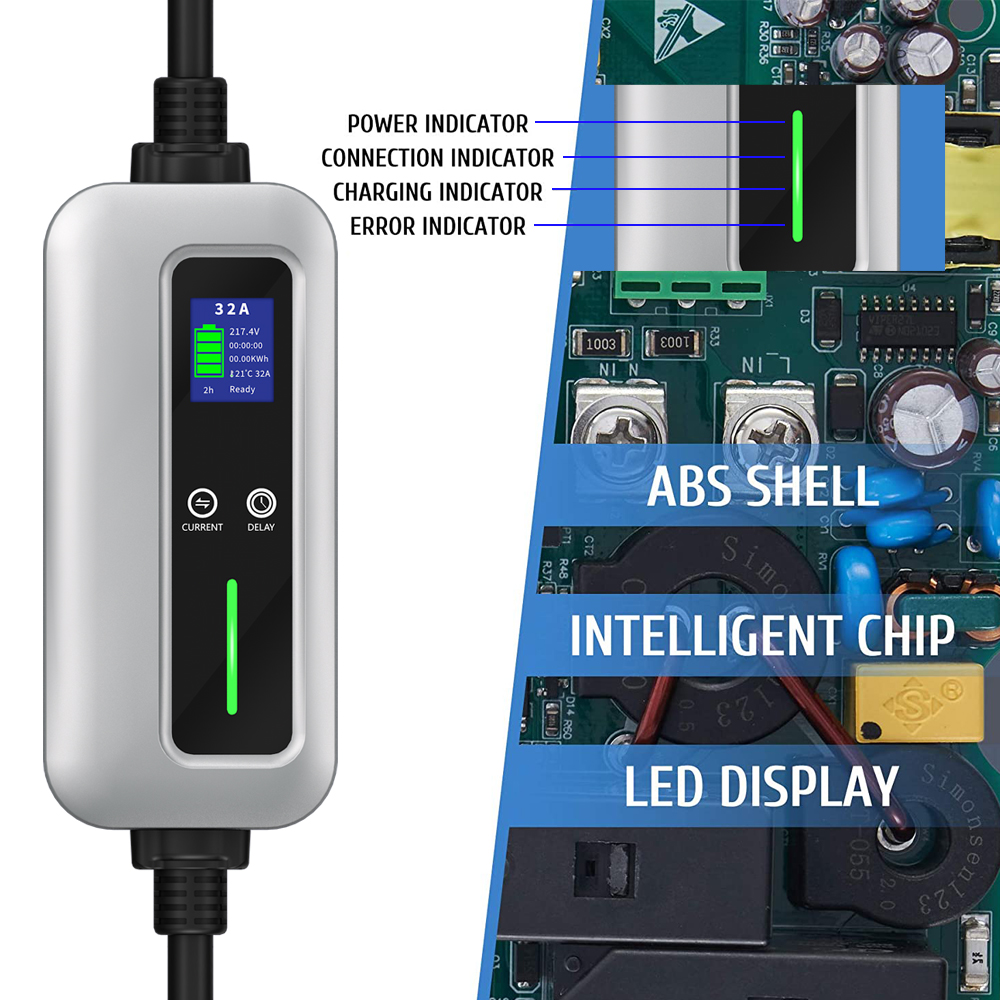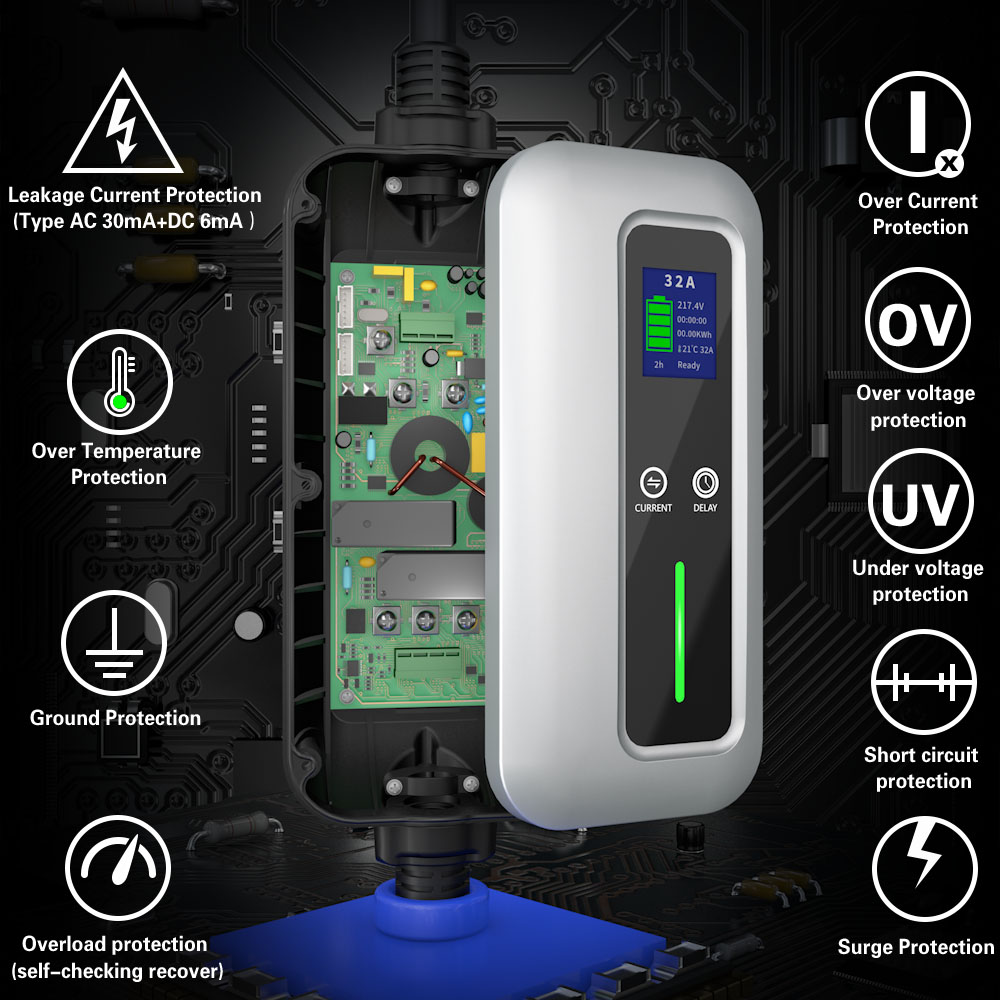 We Are Compatible With All Plug-in Electric Vehicle Brand
Nissan LEAF, Nissan eNV-2000, VW eGolf Chevy Volt, 
Chevy Bolt, Chevy Spark Toyota Prius Plug-In, 
Prius Prime,
Toyota Rav4 EV Hyundai Ioniq,
Kia Soul EV, Mercedes B Class Electric Drive,
BMW i3 and i8 
Ford Focus Electric, Ford C-Max Energy, Ford Fusion Energy, Fiat 500e ZERO motorcycle , Brammo motorcycle       
Smart Electric Drive, Karma Fisker, Mitsubishi iMiev, Cadillac ELR Porsche Cayenne S-E, Porsche Panamera S-E     
Honda Accord Plug-In Hybrid, Honda Fit EV
Tesla Model S, Tesla Model X (* need to use with Tesla charging adapter)
12month quality guarantee and free technical support.